---
Hello Readers, Welcome to Aspire SoftServ Private Limited (Formerly known as Aspire Software Solutions).
Introduction
Are you looking for an All-in-one and the Best ERP Solution for your Business?
If you are a SMEs business, you will require Accounting, HR, Finance, Sales, POS, Project Management, Marketing, Billing, and many other management software. Odoo can be the best fit for your business need. You can start on any application you need more urgently – that is the great thing about it. 
Every Business needs much attention to store, manage, save and update various data. Thus, it can be unmanageable without a unique tool. ERP (Enterprise Resource Planning) is the unique system that works as your business technology brain, which provides all core processes needed to run a business with complete visibility and optimization. 
What is Odoo ERP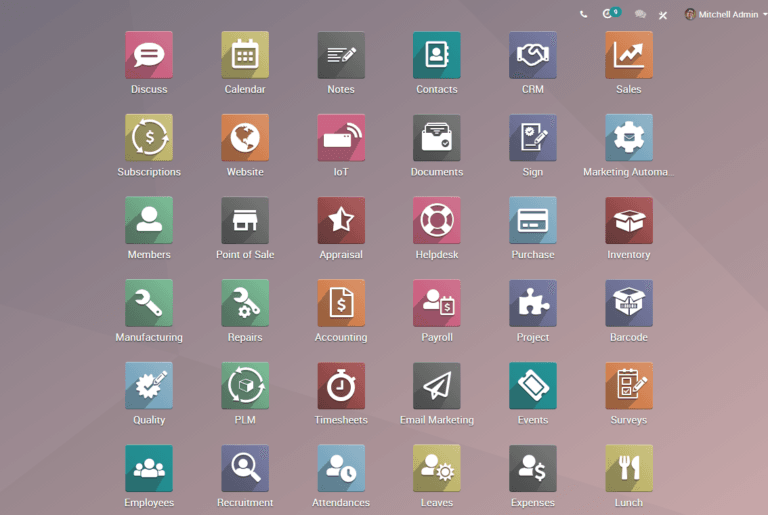 Odoo is a suite of business management software tools including, for example, CRM, e-commerce, billing, accounting, manufacturing, warehouse, project management, and inventory management with 4000+ modules available for Business.
Odoo is an ALL-IN-ONE and cost-effective ERP solution that offers many ready-made solutions to SMEs. It can be customized to meet the specific needs of your business, and we provide migration services to help you switch from your existing ERP system.   
Odoo can help you to grow your Business
"70% of Businesses struggled due to many problems – Complex, manual and costly business operations and management."  
Odoo is perfect for SME (Small, Medium, and Enterprise) businesses. Odoo provides 35+ modules and 3000+ ready-made apps for your entire business. With Odoo, any business can automate and digitize business processes
Why SMEs should use Odoo
Yes, Odoo comes with all business-ready modules like CRM, ERP, SALES, FINANCE, MARKETING, HR, and many more.  
Odoo is the #1 most popular All-in-one Business suite for Small, Medium, and Enterprise(SMEs).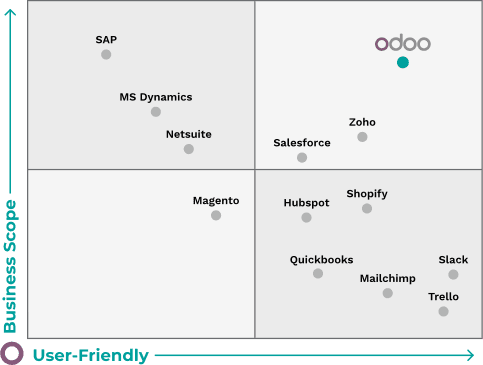 Odoo is the most cost-effective compared to other competitors like Salesforce, Zoho, Netsuite, Quickbooks, erpNext, SAP, and many more.   
The principles behind it permit you to start with a minimal implementation:
Usually, as a small company, you will want to focus on what provides more value to yourself and ignore everything else.
Let's say, contact list and invoicing and payments. It's clear to configure and train yourself to operate that one. Once you feel comfortable with the system, you can utilize more suitable Business-specific modules. 
Contact us for a free demo.
Odoo for Every Business– One Stop Solution for Any SMEs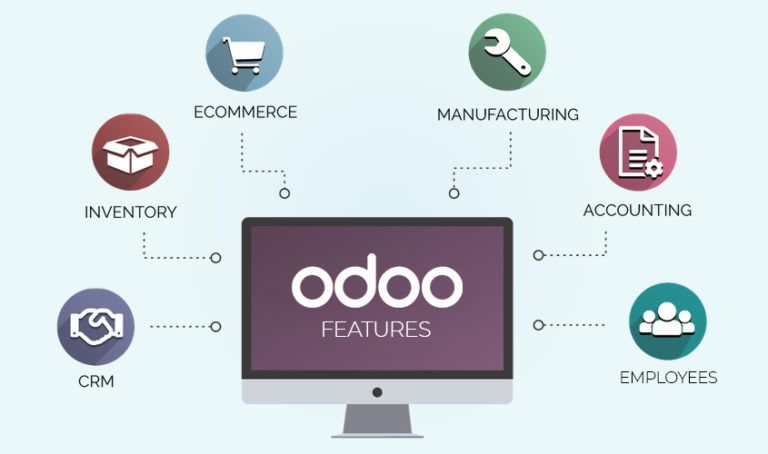 Every Business wants to adopt technology in less time, budget, and quick implementation. Odoo can offer SMEs readymade solutions or customized solutions. Let's see the features below:  
Odoo provides detailed features for boosting finance, manufacturing, government, telecommunication, e-commerce, or other sectors. The ERP merges the business core processes of HR, finance, supply chain, services, manufacturing, and others into a single system.
By synchronizing all of these areas, businesses will improve competitiveness, productivity, and operational efficiency, resulting in overall business profits. 
Below are the important modules in your business structure to grow your Business.
CRM
Odoo offers an intuitive user interface developed for sales and a dashboard that renders a broad overview of the sales activities. Also, it supplies valuable tips and best practices to enable customers to configure and deploy their CRM strategically.
Odoo's mobile user interface adapts members of a distributed sales team, even without an internet connection.   
Inventory
Odoo's outstanding double-entry inventory management lets complete track of materials and products from the supplier to the customer. Customers can pack and deliver orders with or without barcode scanners. Odoo manages delivery orders for customers based on availability. 
E-commerce
Odoo's automated stock adjustments and reporting can help businesses. With an integrated e-commerce platform, inventory and sales can smoothly be maintained.   
Dedicated consumer portals allow storing consumer data with order tracking and claims. Consumers can download invoices and delivery orders and view pending shipments from a single location. 
Manufacturing
Companies can use Odoo to control their assembly and manufacturing operations. Odoo automatically activates quality assessments for the manufacturing division. 
Accounting
Odoo automates the complete invoicing process, allowing consumers to save time on tedious manual work like data entry. Users also get instant access to all accounting features on their mobile devices.   
Companies can also automatically track assets and depreciation boards, generate amortization entries, and manage all events associated with investments with a few clicks.
Human Resources
Employees can accomplish their jobs anywhere with the cloud ERP, which has become the most helpful ERP system feature. This same feature is essential nowadays.  
Consumers can also make weekly and monthly timesheets and trace the time spent by employees per project.  
The 7 Top Reasons SMEs Businesses likes Odoo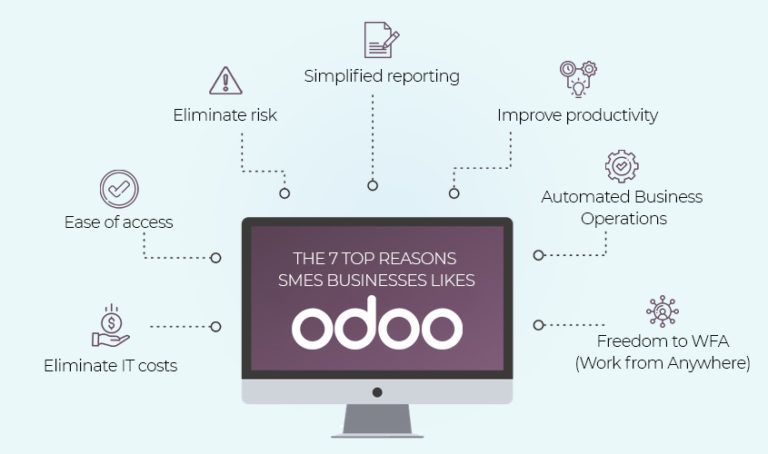 Odoo and its features/modules can be modified at the code level to meet specific demands as an open-source solution. The expanse of its breadth includes tools that address Sales, Invoicing, Point of Sale, Email Marketing, Subscriptions Management, and more. The following modules represent the ERP's functionality:  
Eliminate IT costs
Odoo helps integrate existing applications into other complex business programs that share databases. All business processes are centralized on a single system, avoid additional teams for support, and make it easy to work. 
Ease of access
Odoo gets fast solutions for all business queries from any business department; it provides rapid access to real-time and accurate data with the operation, so you won't be late to catch new opportunities. 
Eliminate risk
Effective data collection with few errors decreases risk by shifting your ERP to the secure cloud that allows you to scale, upgrade and enrich business information fast.
Simplified reporting
Fast and accurate Business and financial reporting with accuracy that avoids duplications and mistakes. Automated reporting realizes, improves performance, and efficiently shares the result. 
Improve productivity
it helps boost your Business with better profits and fewer resources. It furthermore decreases the cost of training and makes streamlines and optimizes core business processes. 
Automated Business Operations
Odoo allows SMEs business to automate and reduces human mediation in production and administration. Due to the automated procedures, fewer errors happen. As an outcome, it saves time and cost for error correction and re-entering information. 
Freedom to WFA (Work from Anywhere) 
With cloud ERP, Employees can accomplish their jobs anywhere, which becomes the most helpful ERP system feature. This same feature is essential nowadays.
Conclusion
Odoo is an open-source ERP software that offers SMEs many features. Odoo use cases are for accounting, HR, Sales, Manufacturing, Project Management, etc. 
Our team of experienced odoo developers can help you customize Odoo to fit your specific needs. We can also help you migrate to Odoo from other ERP software. 
We want to help SMEs grow and prosper by providing them with an affordable and customizable ERP solution. Contact us today to learn more about Odoo and how it can benefit your business. 
About Aspire Portfolio 
Let us experience our industry-standard portfolio. Please visit here Aspire portfolio.  
You can check out our service page –  Aspire ERP Development. 
About Aspire Softserv Pvt Ltd. 
Aspire SoftServ has 13+ years of industrial experience in many latest technologies like Angular, Blockchain, React, Liferay, Java, and many more.  
For more information, kindly visit our service page. 
If you enjoyed the blog post, please share it with friends and colleagues, and do not forget to give valuable feedback on what you like in this article. 
If you have any queries, doubts, or ideas, Please Feel Free to contact us. We are ready to look forward to working with you. Have a wonderful day🙂